Game 7 of the 1960 World Series

---
Where were you that day -- when Maz humiliated the New York Yankees?
---
There is a baseball service called "Retrosheet." It is located at
At this web site are the play by play records of many ball games. This is one of them.
I was at work, an IBM rep visiting a client, B. F. Goodrich, when this game was played. We heard a lot of it on the radio that day. Carol, at home moving furniture with a friend, dropped a sofa on her to go to the phone and call me when Maz hit the winning blow in the 9th.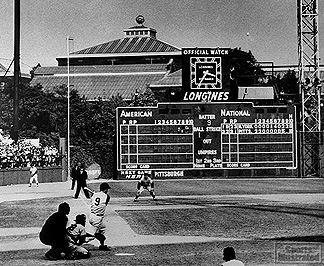 Here is the retrosheet on that game.
---

Retrosheet Play-by-Play Account
Game of Thursday, 10/13/1960 -- New York Yankees at Pittsburgh
Pirates (D)

Starting Lineups:

   New York                      Pittsburgh
1. B.Richardson        2b        B.Virdon            cf
2. T.Kubek             ss        D.Groat             ss
3. R.Maris             rf        B.Skinner           lf
4. M.Mantle            cf        R.Nelson            1b
5. Y.Berra             lf        R.Clemente          rf
6. B.Skowron           1b        S.Burgess           c
7. J.Blanchard         c         D.Hoak              3b
8. C.Boyer             3b        B.Mazeroski         2b
9. B.Turley            p         V.Law               p

YANKEES 1ST: B.Richardson lined to D.Groat-ss; T.Kubek popped to
B.Mazeroski-2b; R.Maris popped to D.Hoak-3b in foul territory; 0
R, 0 H, 0 E, 0 LOB.  Yankees 0, Pirates 0.

PIRATES 1ST: B.Virdon flied to Y.Berra-lf; D.Groat popped to
T.Kubek-ss; B.Skinner walked; R.Nelson homered to deep
rightfield [B.Skinner scored]; R.Clemente popped to
B.Richardson-2b; 2 R, 1 H, 0 E, 0 LOB.  Yankees 0, Pirates 2.

YANKEES 2ND: M.Mantle flied to B.Virdon-cf; Y.Berra grounded
out (D.Hoak-3b to R.Nelson-1b); B.Skowron grounded out
(D.Groat-ss to R.Nelson-1b); 0 R, 0 H, 0 E, 0 LOB.  Yankees 0,
Pirates 2.

PIRATES 2ND: S.Burgess singled to right field; B.STAFFORD
REPLACED B.TURLEY (PITCHING); D.Hoak walked [S.Burgess to
second]; On a bunt B.Mazeroski singled to pitcher [S.Burgess to
third, D.Hoak to second]; V.Law grounded into a double play
(B.Stafford-p to J.Blanchard-c to B.Skowron-1b) [S.Burgess out
at home, D.Hoak to third, B.Mazeroski to second]; B.Virdon
singled to right field [D.Hoak scored, B.Mazeroski scored,
B.Virdon to second (error by R.Maris-rf)]; D.Groat grounded out
(C.Boyer-3b to B.Skowron-1b); 2 R, 3 H, 1 E, 1 LOB.  Yankees 0,
Pirates 4.

YANKEES 3RD: J.Blanchard grounded out (V.Law-p to R.Nelson-1b);
C.Boyer popped to B.Mazeroski-2b; H.LOPEZ BATTED FOR B.STAFFORD;
H.Lopez singled to left field; B.Richardson flied to
B.Skinner-lf; 0 R, 1 H, 0 E, 1 LOB.  Yankees 0, Pirates 4.

PIRATES 3RD: B.SHANTZ REPLACED H.LOPEZ (PITCHING); B.Skinner
grounded out (B.Skowron-1b to B.Shantz-p); R.Nelson walked;
R.Clemente grounded into a double play (B.Richardson-2b to
T.Kubek-ss to B.Skowron-1b) [R.Nelson out at second]; 0 R, 0 H,
0 E, 0 LOB.  Yankees 0, Pirates 4.

YANKEES 4TH: T.Kubek popped to D.Groat-ss; R.Maris lined to
R.Clemente-rf; M.Mantle singled to right field; Y.Berra flied to
R.Clemente-rf; 0 R, 1 H, 0 E, 1 LOB.  Yankees 0, Pirates 4.

PIRATES 4TH: S.Burgess grounded out (B.Richardson-2b to
B.Skowron-1b); D.Hoak grounded out (B.Richardson-2b to
B.Skowron-1b); B.Mazeroski popped to T.Kubek-ss; 0 R, 0 H, 0 E,
0 LOB.  Yankees 0, Pirates 4.

YANKEES 5TH: B.Skowron homered to deep rightfield; J.Blanchard
flied to B.Virdon-cf; C.Boyer lined to B.Mazeroski-2b; B.Shantz
popped to R.Nelson-1b; 1 R, 1 H, 0 E, 0 LOB.  Yankees 1, Pirates
4.

PIRATES 5TH: V.Law grounded out (C.Boyer-3b to B.Skowron-1b);
B.Virdon grounded out (B.Richardson-2b to B.Skowron-1b); D.Groat
lined to B.Shantz-p; 0 R, 0 H, 0 E, 0 LOB.  Yankees 1, Pirates 4.

YANKEES 6TH: B.Richardson singled to center field; T.Kubek
walked [B.Richardson to second]; R.FACE REPLACED V.LAW
(PITCHING); R.Maris popped to D.Hoak-3b in foul territory;
M.Mantle singled to center field [B.Richardson scored, T.Kubek
to third]; Y.Berra homered to deep rightfield down the line
[T.Kubek scored, M.Mantle scored]; B.Skowron popped to D.Hoak-3b
in foul territory; J.Blanchard grounded out (R.Nelson-1b
unassisted); 4 R, 3 H, 0 E, 0 LOB.  Yankees 5, Pirates 4.

PIRATES 6TH: B.Skinner flied to R.Maris-rf; R.Nelson grounded
out (B.Skowron-1b to B.Shantz-p); R.Clemente grounded out
(B.Shantz-p to B.Skowron-1b); 0 R, 0 H, 0 E, 0 LOB.  Yankees 5,
Pirates 4.

YANKEES 7TH: C.Boyer flied to B.Virdon-cf; B.Shantz singled to
left field; B.Richardson forced B.Shantz (D.Hoak-3b to
B.Mazeroski-2b) [B.Richardson to first]; T.Kubek lined to
R.Clemente-rf; 0 R, 1 H, 0 E, 1 LOB.  Yankees 5, Pirates 4.

PIRATES 7TH: S.Burgess singled to center field; J.CHRISTOPHER
RAN FOR S.BURGESS; D.Hoak lined to Y.Berra-lf; B.Mazeroski
grounded into a double play (T.Kubek-ss to B.Richardson-2b to
B.Skowron-1b) [J.Christopher out at second]; 0 R, 1 H, 0 E, 0
LOB.  Yankees 5, Pirates 4.

YANKEES 8TH: H.SMITH REPLACED J.CHRISTOPHER (PLAYING C);
R.Maris grounded out (R.Face-p to R.Nelson-1b); M.Mantle lined
to D.Groat-ss; Y.Berra walked; B.Skowron singled to third base
[Y.Berra to second]; J.Blanchard singled to right-center
[Y.Berra scored, B.Skowron to third]; C.Boyer doubled to left
field [B.Skowron scored, J.Blanchard to third]; B.Shantz flied
to R.Clemente-rf; 2 R, 3 H, 0 E, 2 LOB.  Yankees 7, Pirates 4.

PIRATES 8TH: G.CIMOLI BATTED FOR R.FACE; G.Cimoli singled to
right-center; B.Virdon singled [G.Cimoli to second]; J.DEMAESTRI
REPLACED T.KUBEK (PLAYING SS); D.Groat singled to left field
[G.Cimoli scored, B.Virdon to second]; J.COATES REPLACED
B.SHANTZ (PITCHING); B.Skinner out on a sacrifice bunt
(C.Boyer-3b to B.Skowron-1b) [B.Virdon to third, D.Groat to
second]; R.Nelson flied to R.Maris-rf; R.Clemente singled to
first base [B.Virdon scored, D.Groat to third]; H.Smith homered
to deep leftfield [D.Groat scored, R.Clemente scored]; R.TERRY
REPLACED J.COATES (PITCHING); D.Hoak flied to Y.Berra-lf; 5 R, 5
H, 0 E, 0 LOB.  Yankees 7, Pirates 9.

YANKEES 9TH: B.FRIEND REPLACED G.CIMOLI (PITCHING);
B.Richardson singled to left-center; D.LONG BATTED FOR
J.DEMAESTRI; D.Long singled to right field [B.Richardson to
second]; H.HADDIX REPLACED B.FRIEND (PITCHING); R.Maris popped
to H.Smith-c in foul territory; M.Mantle singled to right-center
[B.Richardson scored, D.Long to third]; G.MCDOUGALD RAN FOR
D.LONG; Y.Berra grounded out (R.Nelson-1b unassisted)
[G.McDougald scored]; B.Skowron forced M.Mantle (D.Groat-ss to
B.Mazeroski-2b) [B.Skowron to first]; 2 R, 3 H, 0 E, 1 LOB.
Yankees 9, Pirates 9.

PIRATES 9TH: C.BOYER CHANGED POSITIONS (PLAYING SS);
G.MCDOUGALD STAYED IN GAME (PLAYING 3B); B.Mazeroski homered to
deep leftfield; 1 R, 1 H, 0 E, 0 LOB.  Yankees 9, Pirates 10.

Final Totals      R   H   E  LOB
 Yankees          9  13   1   6
 Pirates         10  11   0   1
     Game of 10/13/1960 -- New York at Pittsburgh (D)
     Box score generated at Tue Mar 27 16:21:12 2001

  New York           AB  R  H RBI    Pittsburgh         AB  R  H RBI
Richardson B, 2b      5  2  2  0   Virdon B, cf          4  1  2  2
Kubek T, ss           3  1  0  0   Groat D, ss           4  1  1  1
DeMaestri J, ss       0  0  0  0   Skinner B, lf         2  1  0  0
Long D, ph            1  0  1  0   Nelson R, 1b          3  1  1  2
McDougald G, pr-3b    0  1  0  0   Clemente R, rf        4  1  1  1
Maris R, rf           5  0  0  0   Burgess S, c          3  0  2  0
Mantle M, cf          5  1  3  2   Christopher J, pr     0  0  0  0
Berra Y, lf           4  2  1  4   Smith H, c            1  1  1  3
Skowron B, 1b         5  2  2  1   Hoak D, 3b            3  1  0  0
Blanchard J, c        4  0  1  1   Mazeroski B, 2b       4  2  2  1
Boyer C, 3b-ss        4  0  1  1   Law V, p              2  0  0  0
Turley B, p           0  0  0  0   Face R, p             0  0  0  0
Stafford B, p         0  0  0  0   Cimoli G, ph          1  1  1  0
Lopez H, ph           1  0  1  0   Friend B, p           0  0  0  0
Shantz B, p           3  0  1  0   Haddix H, p           0  0  0  0
Coates J, p           0  0  0  0
Terry R, p            0  0  0  0
                     -- -- -- --                        -- -- -- --
                     40  9 13  9                        31 10 11 10

New York         000 014 022 --  9
Pittsburgh       220 000 051 -- 10
  0 outs when winning run was scored.

  New York             IP  H  R ER BB SO
Turley B*             1.0  2  3  2  1  0
Stafford B            1.0  2  1  2  1  0
Shantz B+             5.0  4  3  3  1  0
Coates J              0.2  2  2  2  0  0
Terry R (L)           0.1  1  1  1  0  0

  Pittsburgh           IP  H  R ER BB SO
Law V#                5.0  4  3  3  1  0
Face R                3.0  6  4  4  1  0
Friend B**            0.0  2  2  2  0  0
Haddix H (W)          1.0  1  0  0  0  0
  * Pitched to 1 batter in 2nd
  + Pitched to 3 batters in 8th
  # Pitched to 2 batters in 6th
  ** Pitched to 2 batters in 9th

E -- Maris R
DP -- New York 3
LOB -- New York 6, Pittsburgh 1
2B -- Boyer C
HR -- Nelson R, Skowron B, Berra Y, Smith H, Mazeroski B
SH -- Skinner B
T -- 2:36
A -- 3668
---
Press backspace to return
---
Home page